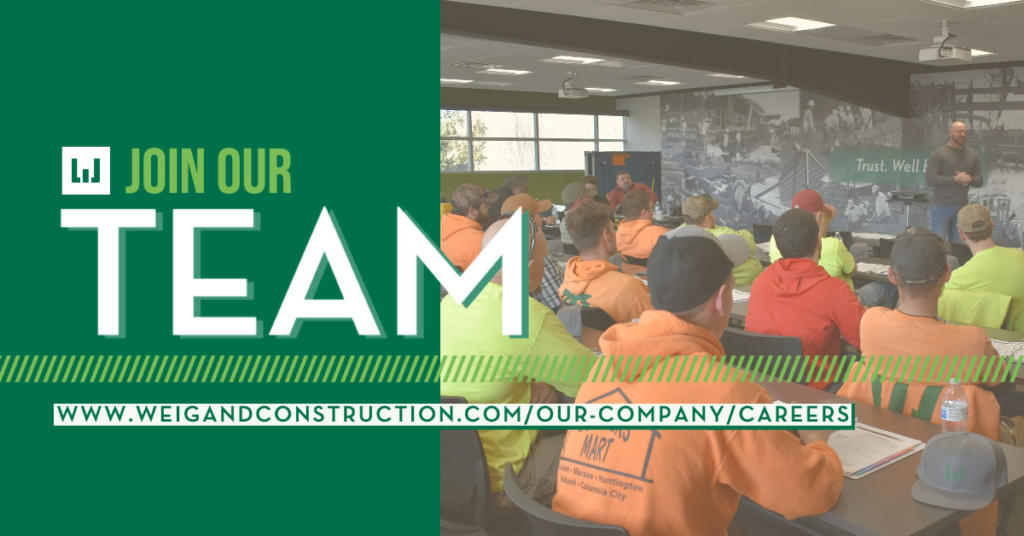 We're Hiring!!
Weigand Construction is looking to hire an experienced Safety Manager within the Fort Wayne area. This is an opportunity to be a part of building up your community and make sure that everyone is safe while doing it!
Apply now on our careers page!
This position is responsible for assisting the Safety Director with the planning and preparation of job site set-up; inspecting and conducting job site visits; advising, supporting, and providing projects safety-oriented environments; scheduling safety training, processing worker's compensation and administration claims; purchasing safety equipment; and administering the safety program. This position serves on various committee assignments and is invited to address various committees regarding safety issues.
Internally, this position works with the Safety Director, the Assistant to the Director of Field Operations, Project Supervisors, and Project Managers. Externally, this position interacts with subcontractors, vendors, government regulatory agencies, and others associated with project-related activities.
Below is an in-depth descriptive list of position responsibilities and requirements.
Principal Responsibilities:
Job Site Set-up
Preconstruction Checklists
Safety Informational Posting
First Aid
Safety Equipment Management
Site Visits
Job Site Inspection
Inform Internal and External Teams
Job Site Investigation
Technical Problem Solving and Decision Making
Flexibility
Safety Equipment Inspections
Administration
Manage Safety Training Program
Filing Traditional and Digital Documents
Correspondence
Time Management/Scheduling
Retain Project Knowledge
Work with Safety Committee on Changes to Safety Program
Preparing Reports Regularly
Management
Team Building
Self-Evaluation
Professional Development Training
Proper Delegation to Support Staff
Effective Communication
Required Qualifications:
College Graduate (Safety Degree or Related) OR Applicable Working Experience of 4+ Years
College Internship with a construction company or previous safety-related employment in the construction industry
Specialized Knowledge including but not limited to: Workman's Compensation rules and regulations (Indiana), Federal OSHA, IOSHA (Indiana), MIOSHA (Michigan), Rules and regulations for the construction Industry 29 CFR 1926
Core Values:
Communication
Customer Service
Interpersonal Relations
Adaptability
Decision Making/Problem Solving
Planning and Organization
Attention to Detail
Conflict Resolution
Compensation & Benefits Package:
To be determined upon experience aligning with company needs
*Please include salary requirements with resume submission.
The Weigand Why:
BUILDING LANDMARKS THAT IMPACT THE LIVES AND COMMUNITIES WE SERVE