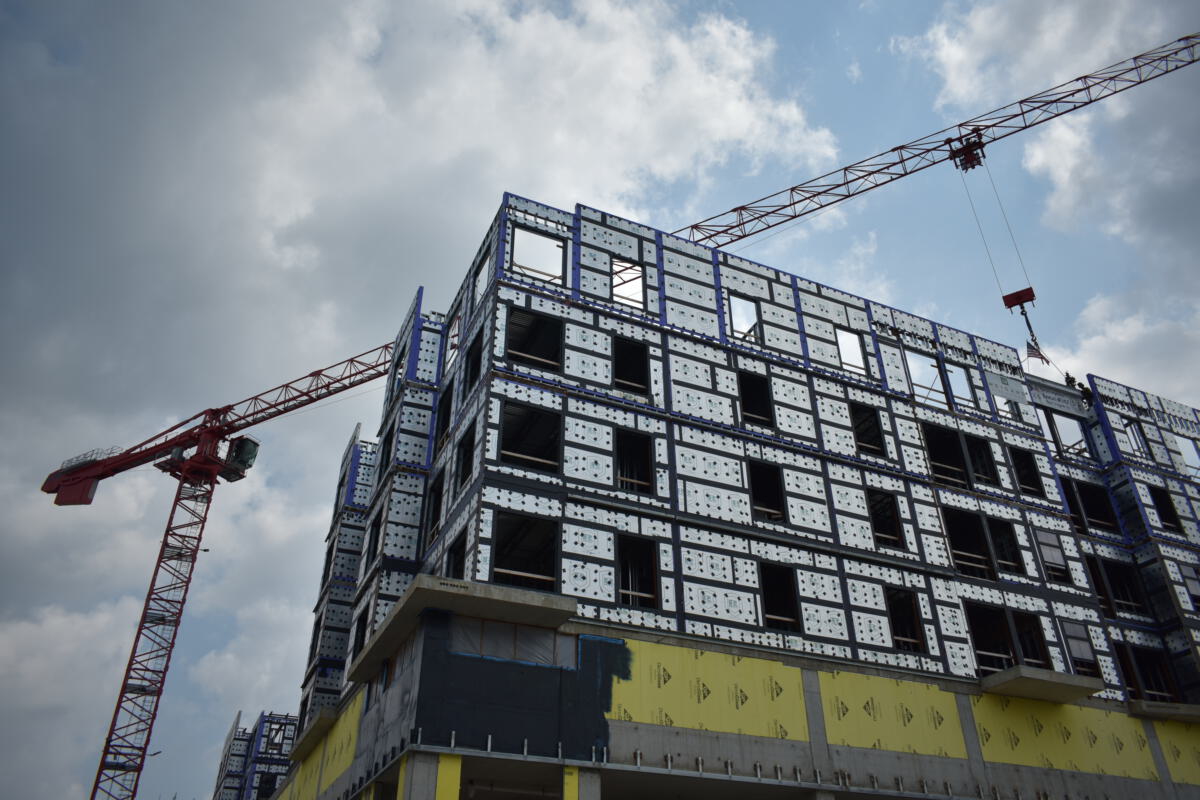 From the Top
The Pearl, a mixed-used development being constructed at 247 Pearl Street in downtown Fort Wayne, reached a significant milestone today with a festive steel topping out ceremony held at the construction site. The event marked the completion of the structural framework and symbolized the progress made on this exciting project.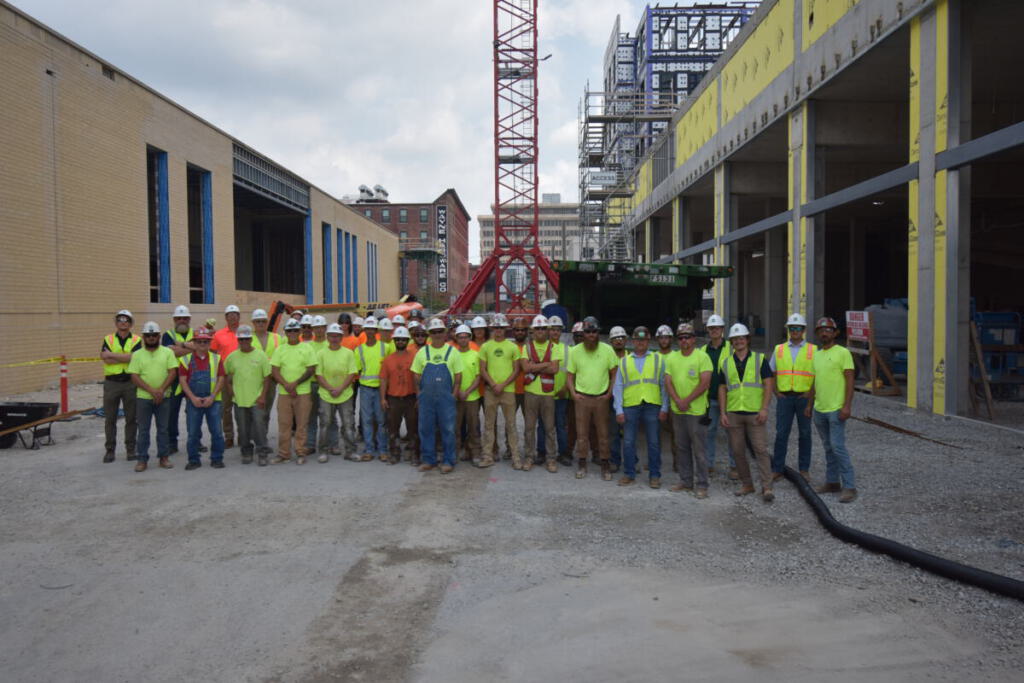 Weigand Construction and Surack Enterprises gathered to commemorate the placement of the final steel beam, which was signed by the construction crew as part of the ceremony. As the beam was lifted into place, adorned with an evergreen tree and an American flag, a sense of achievement and pride permeated the atmosphere. This moment marks a major milestone of the project, which has been in active construction since the spring of 2022.
The Pearl will be another gem in our downtown.

Larry Weigand, CEO, Weigand Construction
The Tree and the Beam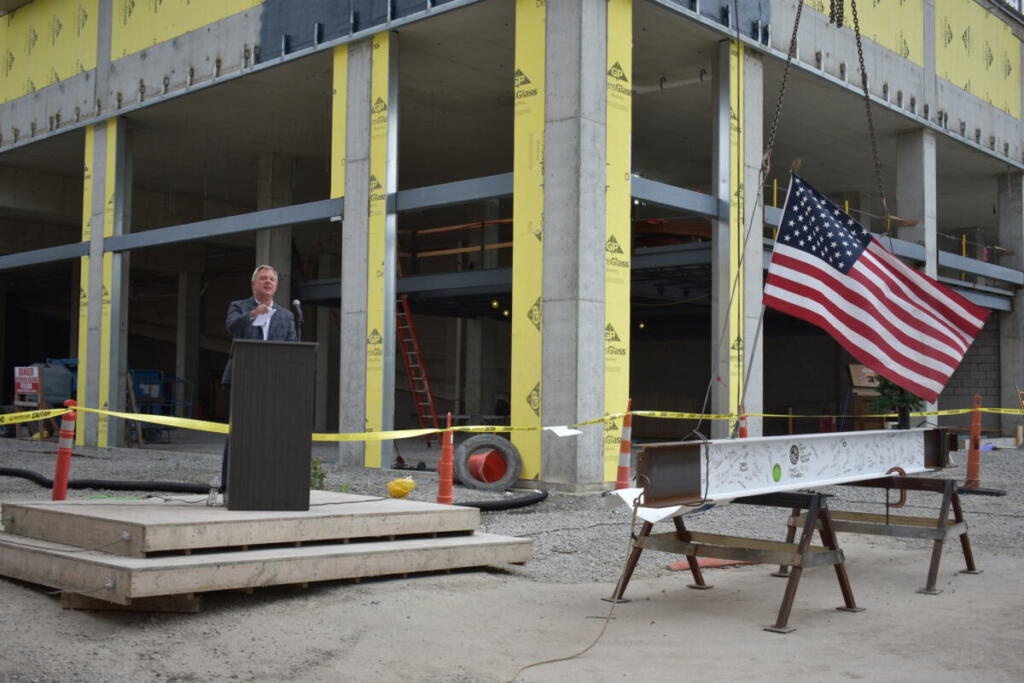 A time-honored tradition for hundreds of years, topping out ceremonies have been a staple of construction practiced by generations of builders across the globe. It is said that the pine tree, attached to the final beam, used to serve the purpose of signaling when wood frames were ready to cover, and symbolized. When the pine needles fell off the tree, it meant enough time passed for the timber to dry and cure. Though it is more symbolic than functional now, the pine tree is a special practice that binds its legacy to the builders that came before us.
Down to the Numbers
Throughout the course of the building phase, the construction crew at The Pearl has reached: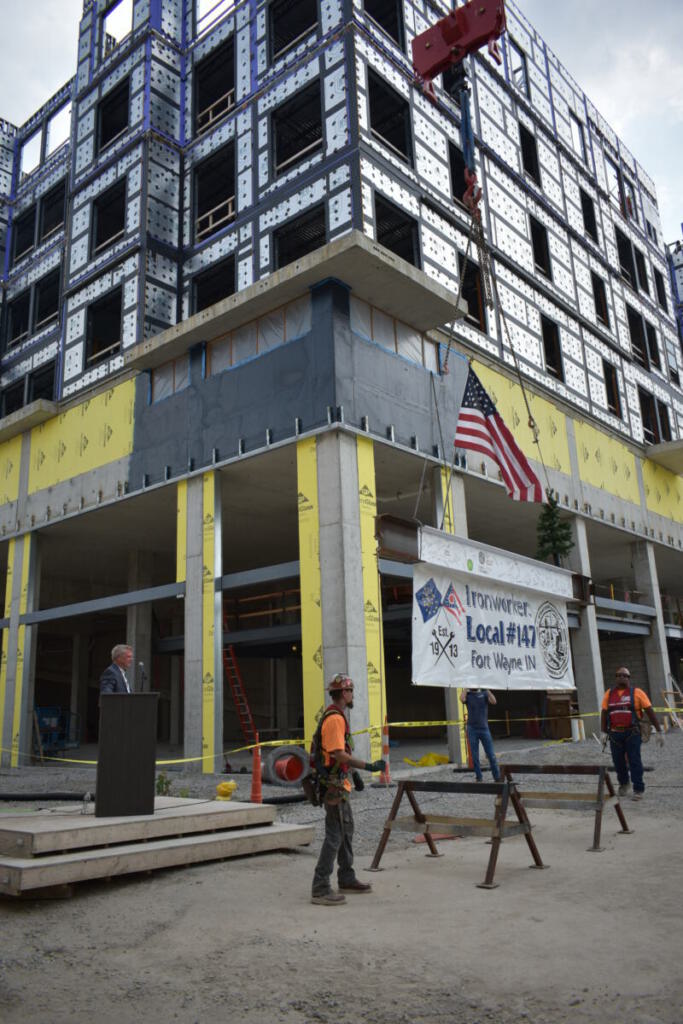 Over 11,000 yards of concrete poured to date.
50,000+ Weigand Construction man hours.
Over 100+ Field Staff on site and rising.
4000+ tons of rebar installed.
Zero recordable accidents or safety incidents to date.
By late summer in 2024, The Pearl will be completed, creating a new space for residents, employers, restaurants, and businesses to call home. It will feature:
76 Residential Apartments
5 Live/Work Storefronts
On-Site Residential Parking
Mail and Delivery Hubspot
On-Site Fitness Center
"It's going to be a further expansion of the downtown and particularly of The Landing." – Chuck Surack, Founder and CEO, Surack Enterprises
"Some of the tenants will take occupancy next year right around this time, and we are looking good as far as finishing up about a year from right now." – Larry Weigand, CEO, Weigand Construction
With the project's slated completion date, we are eagerly anticipating the wonderful addition this will bring to the downtown skyline!
---