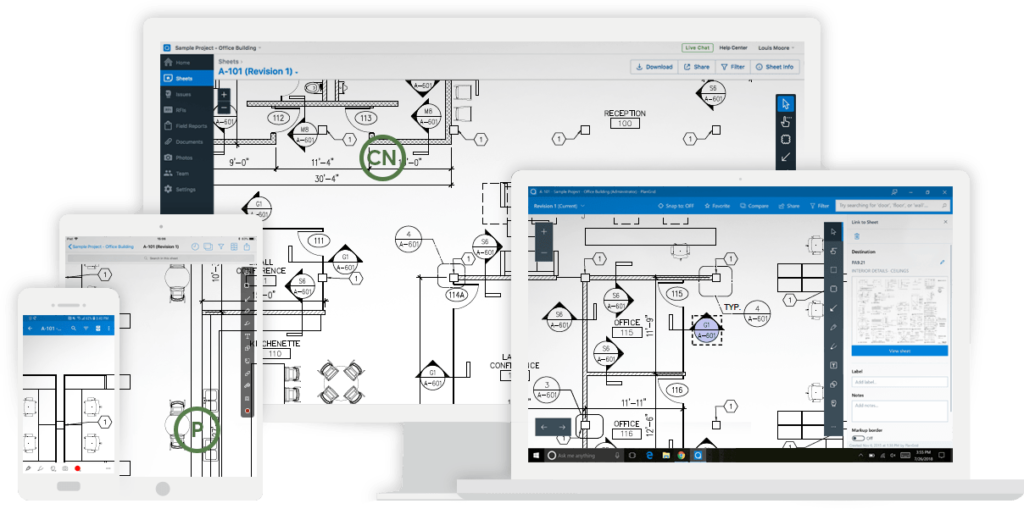 In the last several years, Weigand Construction has invested heavily into new construction technologies. With estimating totals exceeding $1 billion per year, we have invested in strategic partnerships and additional service lines that support our clients with the latest construction technology systems. Building Information Modeling (BIM) and programs such as Revit, Navisworks, 3Ds Max and Lumion allow us to better assist our clients from operations during construction to streamlining their future growth.
Building Information Technology (BIM) is changing how buildings, infrastructure and utilities are planned, designed, built and managed. To put it simply, BIM refers to a collaborative method of working, based on the generation and exchange of data and information between the construction manager, owner and architect. Based on this information, the full cycle of a building – from conception, to construction, to completion – can be managed.
In that sense, it's an indispensable part of the decision-making process for us, and for our clients.
Building Information Modeling (BIM) Elements Available for All Projects:
PHOTO REALISTIC RENDERINGS

 provide a detailed visualization of the final product before the shovel hits the ground, which helps generate buy-in from stakeholders and enthusiasm in the community.
3D INTERDISCIPLINARY TRADE COORDINATION allows for the identification and resolution of potential clashes between the mechanical, electrical and plumbing trades before they are encountered in the field, saving significant time and money. This process also allows our subcontractors to utilize their expertise to create routing efficiencies during coordination.
PROJECT PHASING AND SCHEDULING coordinates construction traffic, client employee traffic, deliveries and other activities to help the project go more smoothly for everyone involved.
IN-WALL AND ABOVE CEILING AS BUILT PHOTOS digitally document every square foot of your facility during construction. Photos are linked to the as-built drawings to give 100 percent certainty of installed conditions.
4D SCHEDULE SEQUENCING allows us to tie the model to a construction schedule. This process creates a visual representation of what the project looks like at different stages of construction and can be used for preconstruction planning and schedule refinement.

MODEL DRIVEN QUANTITY TAKEOFFS

 allow us to quickly and accurately provide quantities for elements within a project that we can then utilize in our project estimates. This raises our precision and efficiency, giving the owner more value and peace of mind.
3D MODELING OF AS-BUILT CONDITIONS also captures installed conditions in a 3D building model, which can be useful in future renovations, remodels, additions or equipment fit-out.
INTEGRATING BUILDING INFORMATION WITH FACILITY MANAGEMENT SYSTEMS utilizes the COBie data exchange format to electronically populate your facility management system with building design and operation information at project completion, eliminating the need for manual data entry.
ENHANCED VISUALIZATION TECHNOLOGY allows us to leverage augmented and virtual reality to communicate a clear picture of what project completion will look like in a virtual environment. We can utilize this technology to review mock-up designs, visualize finishes in the completed space and promote projects to the owner and any other key project partners.