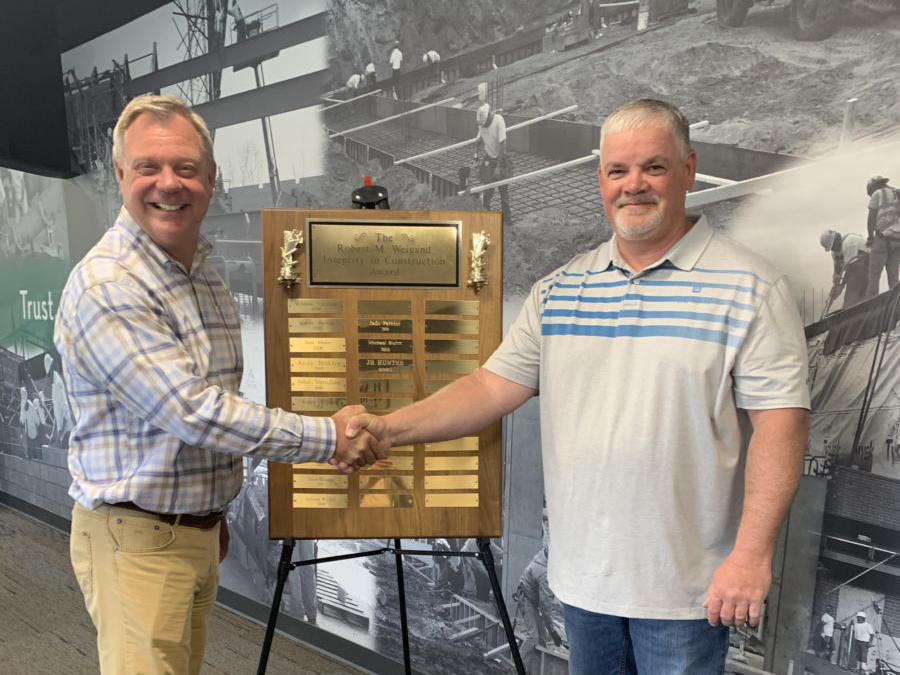 Presented by Larry Weigand, Chief Executive Officer –
The Robert M. Weigand Integrity in Construction Award was started in 2006 as a way to honor my father. Bob's career spanned over 50 years at WCI serving the roles of Superintendent, General Field Superintendent, Vice President, and finally President & Owner from 1984 through 1993. He was a third-generation leader of our company, started by his grandfather in 1906.
From now on, handing out this award will be bittersweet. I'll miss standing next to my father and watching him congratulate the much-deserving recipients in person. My dad constantly reminded me that the WCI Holiday get-together and award ceremony was his favorite night of the year. It is hard to believe it's already been over a year since his passing. I still miss him each and every day, especially when I walk by his "old office".
Due to Covid restrictions, we were unable to have the annual Holiday dinner, but that couldn't stop us from this tradition! I am so pleased to announce the 2020 RMW award recipient… Gary "JR" Hunter!
JR has been a leader in our company since 1999. He was one of the first masons to come on board when we decided to start-self performing masonry again. JR has consistently stepped up and done a great job making our masonry department what it is today.
The criteria for the RMW award are the following: Unwavering Business Ethics, Humility, Hard work, Integrity in actions, Always doing the right thing, Lives the mission statement in actions.
These were all characteristics of the man for which the award is named, and JR definitely exhibits each and every one of these every day. So please join me in congratulating JR!
Weigand Construction appreciates you.
** An excerpt from our Q1 2021 Newsletter **